SHIPPING POLICY
We trade worldwide, adhering to the laws and customs of the countries from which we purchase and ship. We trust that our customers will similarly observe the importation laws of their countries.
If the item needs it, we'll ask the Fine Art Dept. of Thailand to establish an export license, at your name. This is important to allow the item to travel from here to your place but also, in the future, to show to the authorities of your own country that the process was fully legal.
An export license looks like that: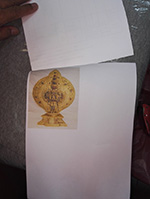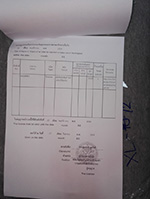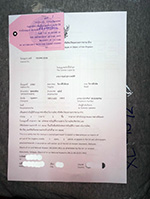 Shipping is always done with a tracking number. We use DHL, TNT or any other courier company, or local postal service. This is door to door service with tracking number, you only have the customs clearance to pay.
In case of special order with voluminous and extremely heavy items, we can use boat.
Azibaza Bazaar guarantees that the fine pieces on offer here are genuine antiques. If a reputable expert certifies that a piece we have sent you is not as we represented it, return it and we will immediately refund your money and shipping costs.
We are very conservative in ascribing ages to our antiques. Most often, our clients find our pieces to be older then we quoted!
GUARANTY AND CUSTOMER SERVICE POLICIES
Best way to contact us: Email

Contact Us

Days of the week not available : Always open but can be closed during short holidays.
Average length of time to respond to an email : Less than 24 hours

Refund Policies
Under what circumstances are refunds given? If the item is not the one of the pictures or if the dimensions are dramatically different or if an established problem occurs during shipping.
Acceptable condition of items to be returned? As Received
In what form are refunds given? Items Can Be Exchanged
How many days allowed to request a refund? 7 Days After Receipt


Return Policies
Who pays for return shipping costs? Seller
Does the buyer need to alert the seller prior to shipping the item? Yes


Warranty Section
Are any warranties provided?
Yes: If the item is not the one of the pictures or if the dimensions are dramatically different, the customer can complain.
Some of our antiques are labeled "guarantied" in the web site. In this lonely case, the age we mention in the description is contractual. If a WELL KNOWN expert in Asian Arts proves our item is not as old as we pretend, the customer can complain.